The more informed you are,
the better decisions you will make

.
Our products and services help you make better and faster decisions by taking the guesswork out of your day-to-day operations and letting you focus on what matters most: the people who live and work in your buildings.
Our clients are real estate investment companies, developers, tenants, and operators. Our solution helps global and local asset managers in the residential, office and retail sectors improve their data management and analysis.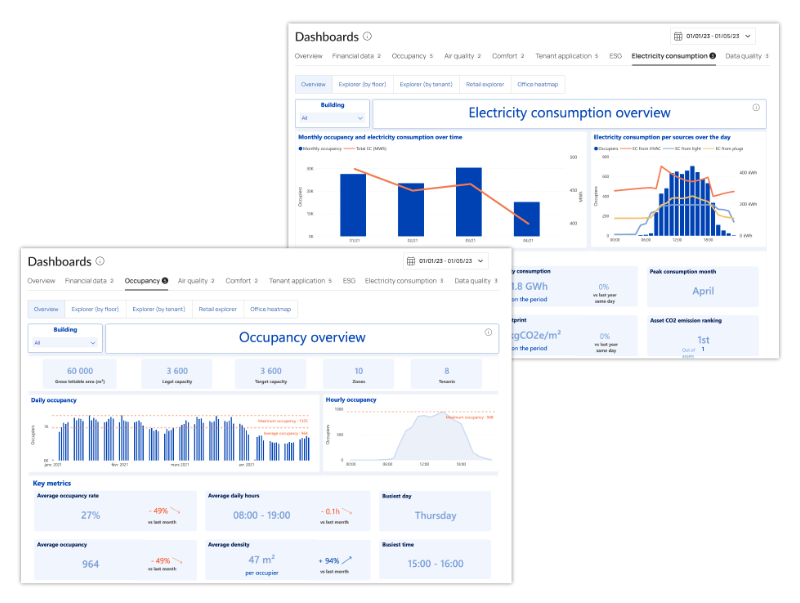 We make data accessible and meaningful
Make use of data intuitively thanks to a straightforward interface
Monitor multiple assets and multiple aspects (occupancy, energy consumption, air quality, and more)
Get financial and non-financial reports
Get performance analysis and tailored recommendations
We support our clients in using the platform, interpreting the data, and designing tailored action plans to maximise financial and non-financial performance.
Our occupancy-based data analysis reveals what is hidden
Anticipate operational and financial problems through continuous monitoring of your assets.
Understand what's happening and why
Predict problems before they appear and mitigate risks
Take the lead in managing the relationship with your tenants, improving the energy performance of your buildings and the experience for your occupants
Track the effects and measure the impact
Thank you! We have received your request and will contact you soon.